P400, P401, P800, AND P801 PANELS
Click on any of the questions below to see the answer. If you do not see your questions here, feel free to contact our office.
WHERE CAN I FIND A COPY OF THE USER MANUAL?
Right Here! This printable PDF will open in a new window.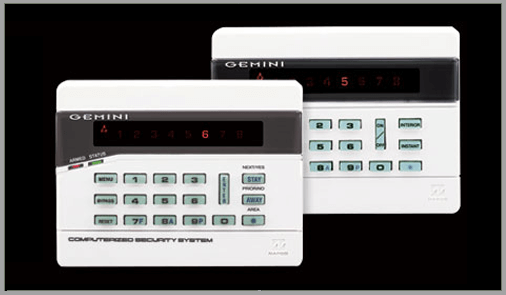 HOW DO I TURN ON/OFF THE DOOR CHIME?
Pressing [Function] then [5] will toggle the door chime on and off. Activating this feature will cause any door to beep the keypad sounder when it is opened.
WHY IS THERE A TRIANGLE WITH AN EXCLAMATION MARK LIT UP ON MY KEYPAD?
This symbol means that there is some kind of trouble on your system. Press [Function] then [4] and refer to the chart on pages 12-13 in the User Manual to determine the problem. 
THE SYSTEM SHOWS I HAVE A LOW BATTERY, WHAT DO I DO?
Every 3-5 years a panel needs a new battery, just like a car. You can come by our office and purchase a battery for around $30, or you can usually find them at local hardware stores for a little higher price.
THE SYSTEM SHOWS A FAILURE TO COMMUNICATE ERROR. WHAT IS THIS, AND HOW DO I FIX IT?
 A "Failure to Communicate" error occurs when the communication path fails. This could be caused by your phones being out, cell towers being worked on, or an equipment failure. If your monitoring is run through your landline phones, you should check if your phone's handset has a dial tone.
This is usually not a persistent problem. When this happens, usually you can just hit [Reset] and the trouble light should go away. However, if it does not, then you can test the system by tripping your alarm to the point that your horns go off, forcing the alarm system to attempt communication with our central station. If it still does not communicate, or if you have changed your phone system and the system has not worked correctly since then, then you need to contact us immediately.
I NEED TO ADD, CHANGE, OR DELETE USER CODES FROM MY SYSTEM. HOW DO I DO THAT?
On page 14 of the User Manual, instructions are given on how to program and erase codes. You cannot change or delete your master code, but you can add up to 6 additional codes.
If you want to give someone a code for one day, just program it in and then erase the code after you return.
DO NOT PUT A CODE INTO USER 8. THIS IS THE DURESS CODE SLOT AND USING THIS CODE WILL CAUSE THE MONITORING STATION TO DISPATCH THE POLICE