MODELS PC1616, PC1832, AND PC1864 PANELS
Click on any of the questions below to see the answer. If you do not see your questions here, feel free to contact our office.
WHERE CAN I FIND A COPY OF THE USER MANUAL?
Right Here! This printable PDF will open in a new window.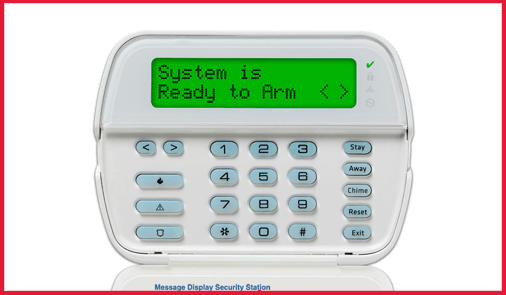 HOW DO I TURN ON/OFF THE DOOR CHIME?
To Enable/Disable Door Chime Press the [*] the Press [4]. When the command is entered, the keypad will provide an audible indication:
Chime ON=3 rapid beeps
Chime OFF=1 long tone
HOW DO I PROGRAM THE TIME AND DATE?
To Program the Time & Date you need to follow these steps:
Step 1 – Enter [*][6]+[Master Code]
Step 2 – Enter [1]
Step 3 – Enter Time [HH:MM] in 24 Hour Format
Step 4 – Enter Date [MM:DD:YY]
Step 5 – Enter [#]
When you are done, you should wait about 15 seconds and the time should appear on the keypad.
WHY IS THERE AN ORANGE TRIANGLE WITH AN EXCLAMATION MARK LIT UP ON MY KEYPAD?
This symbol means that there is some kind of trouble on your system. Press [*] then [2] and refer to the chart on page 11 in the User Manual to determine what the problem is.
THE SYSTEM SHOWS I HAVE A LOW BATTERY, WHAT DO I DO?
Every 3-5 years a panel needs a new battery, just like a car. You can come by our office and purchase a battery for around $30, or you can usually find them at local hardware stores for a little higher price.
THE SYSTEM SHOWS A FAILURE TO COMMUNICATE ERROR. WHAT IS THIS, AND HOW DO I FIX IT?
A "Failure to Communicate" error occurs when the communication path fails. This could be caused by your phones being out, cell towers being worked on, or an equipment failure. If your monitoring is run through your landline phones, you should check if your phone's handset has a dial tone.
If you want to manually test your system's communications you can do so following these steps:
Step 1 – Enter [*][6]+[Master Code]
Step 2 – Enter [4]
Your horns will sound for 3 seconds and the keypad will flash. The alarm system will also attempt to send a Manual Test signal tp the Monitoring Station. If this is successful, the yellow triangle should clear, and you may hear 6 quick beeps around 30 second after the horns sound.
I NEED TO ADD, CHANGE, OR DELETE USER CODES FROM MY SYSTEM. HOW DO I DO THAT?
The following information will tell you how to add, change, or remove codes.
TO ADD A USER ACCESS CODE TO THE SYSTEM:
Step 1 – Enter [*][5]+[Master Code]
Step 2 – Enter the slot number (01-32) to select the user code which is to be added
Step 3 – Enter the 4-digit number for this user
Step 4 – Enter [#]
TO CHANGE THE 4-DIGIT ACCESS CODE NUMBER OF AN EXISTING USER:
Step 1 – Enter [*][5]+[Master Code]
Step 2 – Enter the slot number (01-32) to select the user code which is to be changed
Step 3 – Enter the new 4-digit number for this user
Step 4 – Enter [#]
***If you want to change the Master Code, you need to input User 40.***
TO ERASE A USER ACCESS CODE TO THE SYSTEM:
Step 1 – Enter [*][5]+[Master Code]
Step 2 – Enter the slot number (01-32) to select the user code which is to be erased
Step 3 – Enter [*]
Step 4 – Enter [#]
***If you want to change the Master Code, you need to input User 40.***