GC1 & GC2 GOCONTROL PANELS
Click on any of the questions below to see the answer. If you do not see your questions here, feel free to contact our office.
WHERE CAN I FIND A COPY OF THE USER MANUAL?
Right Here! This printable PDF will open in a new window.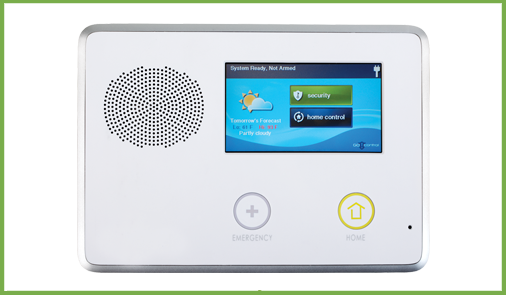 HOW DO I TURN ON/OFF THE DOOR CHIME?
To turn on the chime for each individual zone on your GoControl Panel,complete the following steps:
Press Security > Menu > Toolbox > Chime Setup.
Enter in your master code.
A list of zones will appear. For each zone, you can turn on a chime tone of your choice.
Alternately, you can enable and disable all of the chimes at once by following these steps:
Press Security > Menu.
There will be a checkbox with the word Chime next to it. To turn on/off a chime for every area of your home, toggle the checkmark in this box.
HOW DO I TURN ON OR OFF THE VOICE?
To turn on the voice on your Go!Control panel, complete the following steps:
Step 1 – Press Security > Menu > Toolbox
Step 2 – On the Menu page, check or uncheck the box next to voice. This will toggle the panel voice on or off.
MY PANEL STARTED BEEPING. HOW DO I MAKE IT STOP?
Your Go!Control panel will alert you when there is activity on the panel. The panel is beeping because it wants you to acknowledge the alert, not necessarily because there is a major problem.
To make your panel stop beeping:
Step 1 – Press Security.
Step 2 – Next to the Menu Button you should see a yellow or red button.
Step 3 – Press this button so that the panel can tell you what this alert is.
Step 4 – Press "ok" on the bottom of this screen once you have read the alert. This should stop the beeping for a period of time.

If the problem continues, please contact our office. You may need to schedule a service technician to come take a look.